On March 1, the Cardano blockchain upgraded Mary, growing its technological capacity. Cardano (ADA) will reach a new milestone in its growth with the forthcoming Alonzo Hard Fork, which will result in the creation of an entire ecosystem of DeFi projects centered on Cardano.
Cardano is currently working on the Alonzo testnet. Developers will be able to build and deploy complex smart contracts on the Cardano blockchain thanks to this update. The testing process should begin by mid-May at the latest if everything goes according to schedule. In August, these features will be completely functional on the mainnet.
With the Alonzo testnet set to launch sometime next month, the price of ADA is expected to surpass its previous all-time high (ATH) of $1.485 and skyrocket higher.
Ethereum is probably the most widely used blockchain in the DeFi market. People are constantly turning to the cheaper Binance Smart Chain due to the high transaction fees (BSC). However, the problem of decentralization has always been a hot topic.
Cardano is planning to strengthen itself in order to become a stronger rival to Ethereum, based on its fully centralized advantages and the upcoming smart contract test. The price of ADA would benefit from DeFi market operation by receiving the DeFi-specific market boom. Cardano's price rally is showing signs of progress.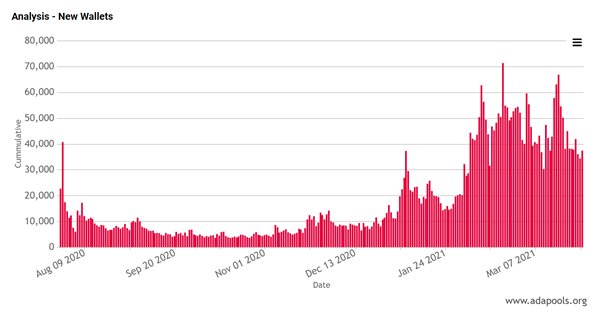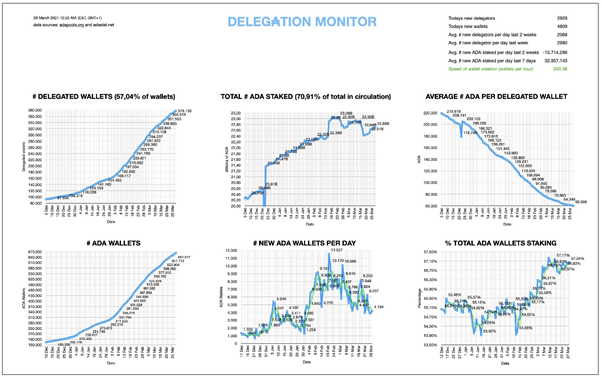 When it comes to the total number of new ADA wallets, the total number has decreased. However, staking has risen as a percentage of the total number of ADA wallets. This means that the price increase is continuing. This is just the beginning, and a new round of rising will follow.
Price Analysis of Cardano (ADA)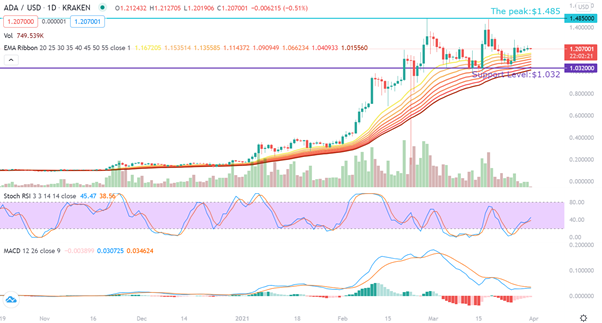 In mid-March, Cardano, the fifth-largest cryptocurrency by market capitalization ($38,622,821,103), attempted to hit an all-time high of $1.485 but was met with intense selling pressure. At the time of writing, the price of ADA is on the mend, fluctuating around $1.20 in anticipation of the next major step.
In recent days, the ADA/USD transaction prices were far higher than the Exponential Moving Average ribbon. It shows that ADA has broken free from its previous downward trend. The bulls are currently dominating the market for ADA, according to the upward stochastic RSI predictor and the upward sloping exponential moving average ribbon.
At the same time, the MACD indicator has been stuck above the zero axes, which is a sign that a bullish crossover is about to form. The price of ADA is expected to return to its previous high. The market's bulls' next goal may be around the $1.29 resistance stage.
If a large number of sell orders are activated, ADA/USD will test the $1.17 support level of the 20-day Exponential Moving Average. The $1 mark will be checked if the bulls struggle to defend $1.17.