Since breaking through the $2,000 mark a few months ago, Ethereum (ETH) has been consolidating.
According to CoinMarketCap, the second-largest cryptocurrency by market capitalization is trading around $1,643 at the time of publishing.
Michael van de Poppe, a market trader and analyst, suggests that ETH's sideways consolidation will continue until a bottoming structure emerges. He elaborated:
"Despite the more dropdowns, Ethereum is still perfect here. A bottoming construction should be similar to sideways consolidation."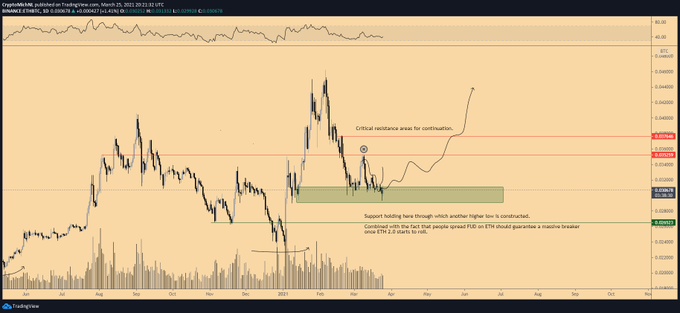 The question of Ethereum's high gas fees
The issue of high gas fees has been a stumbling block for ETH. As a result, given that some consumers are searching for cheaper alternatives, its price has plummeted.
The Ethereum Improvement Protocol (EIP-1559), which is scheduled to launch in July, has been hailed as a game-changer that will fix the network's rising gas fees.
Nonetheless, according to CoinMetrics data analytics' "Ethereum Gas Report," Ethereum's EIP 1559 update does not solve the problem, and Ethereum 2.0 is the best bet for a move to a proof-of-stake consensus system from the current proof-of-work.
Since its launch in December 2020, investors have been betting big on Ethereum 2.0, with the amount of ETH staked rising by the day. The "total value in the ETH 2.0 Deposit Contract recently reached an ATH of 3,559,106 ETH," according to on-chain data analytics provider Glassnode.
At the moment, Ethereum is undervalued.
The MVRV ratio is around -3.93 percent, according to technical and on-chain analyst Ali Martinez, indicating that Ethereum is currently undervalued. He admitted, "
"The MVRV, which calculates the average profit/loss of Ethereum addresses acquired in the previous month, also favors the bulls. When the MVRV falls below 0%, a bullish impulse usually follows. The MVRV ratio is currently floating around -3.93 percent, meaning that ETH is undervalued."

Only time will tell whether ETH 2.0 will be a game-changer in resolving the Ethereum network's current high gas fees issue.