Ethereum (ETH) is still showing its promise in the cryptocurrency market, after reaching record levels of above $3,900 for a brief period of time.
Ethereum has been on a tear since breaking through its last record of $1,400 set in 2018, and it is at the moment trading at $3,920.
As Documenting Ethereum points out, ETH is exiting cryptocurrency exchanges in huge amounts. According to the cryptocurrency data provider, this graph below shows that there were ten withdrawals of more than 200,000 Ethereum per day this year. They all stem from exchanges and this tells us that supply is depleted.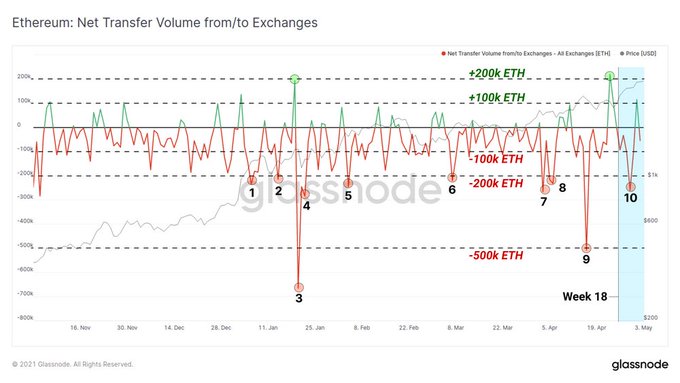 Withdrawals from exchanges have been huge, resulting in a supply gap as demand rises. Ethereum's bull run has recently seen the 2nd-biggest crypto breach the psychological price of 3k US dollars, with its sights set on the 5k US dollar stage.
When cryptos are withdrawn from exchanges, they are almost certainly held in cold storage for speculative or future needs. As a result of marketplace forces, prices are projected to rise as supply falls and demand rises.
Ethereum trading on exchanges has dropped to 12 percent of the circulating stock.
According to Glassnode, the provider of on-chain metrics, Ethereum supply dynamics show a lot about the protocol's future. Ethereum on exchanges accounts for 12 percent of circulating stock, while Ether in smart contracts accounts for 22.8 percent.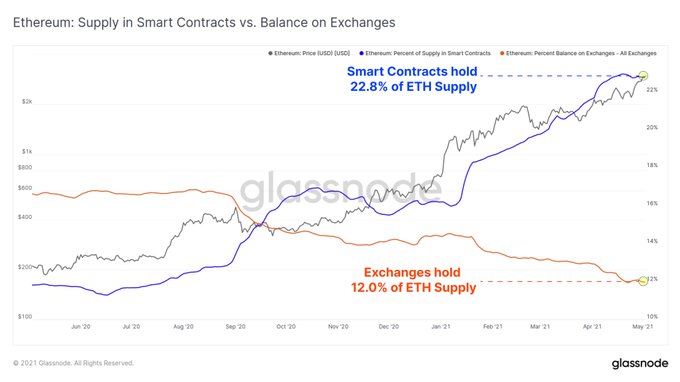 As a result, the rate of Ethereum locked in decentralized finance contracts is increasing. For example, the overall valuation of the ETH 2.0 deposit contract has just reached record highs of over $11 billion.
Ethereum keeps on getting depleted in exchanges, indicating increasing confidence.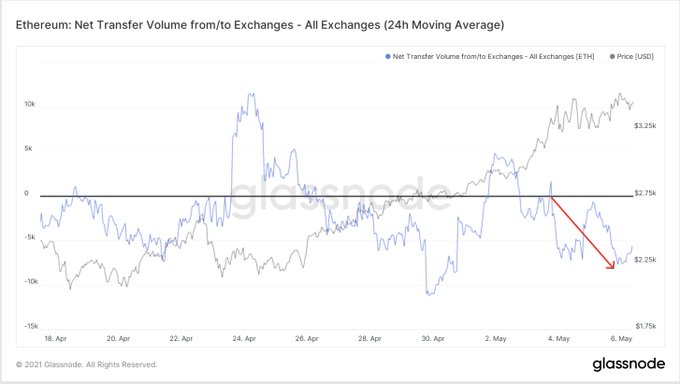 Furthermore, a recent Glassnode study noted that there were more and more Ethereum coins aged 1-6 months. As a result, holding ETH accrued during the early bull market remains a popular method.
Time will say if ETH's next milestone of $5k will be reached this year.