Ethereum (ETH) continues to demonstrate its ability by reaching new heights. The world's second-biggest crypto has reached a new record high of $2,159.30.
The last high was $2,151.63, which was set on April 6. Despite this, a reversal occurred almost instantly, and Ether fell to $1,930 on April 7.
The rally in Ethereum has been fueled by a number of bull-like characteristics. For example, payment company Visa Inc. revealed late last month that it has decided to use the Ethereum blockchain to conduct USDC transfers.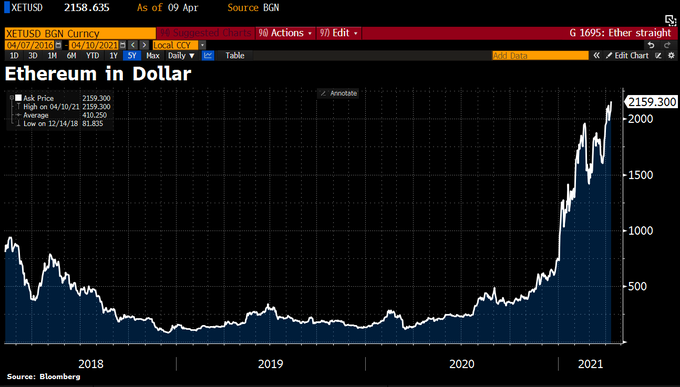 If the price of Ethereum carries on rising, so do the fundamentals supporting it. Supply on exchanges carries on to go down (-4.6m YTD), open interest is over $6 billion, 10.65 million Ethereum is locked in decentralized finance, and regular active addresses are steady.
The DeFi sector has been critical to ETH's bullish rally, as some of its items, such as smart contracts, are in high demand in this area.
The overall value locked in Ethereum 2.0 exceeds $8 billion.
More people are jumping on the Ethereum bandwagon. According to the on-chain metrics provider, the total number of ETH addresses containing 0.01+ coins has only climbed to 13,872,315.
The overall value of the ETH 2.0 deposit contract has surpassed $8 billion, indicating that investors are speculating high.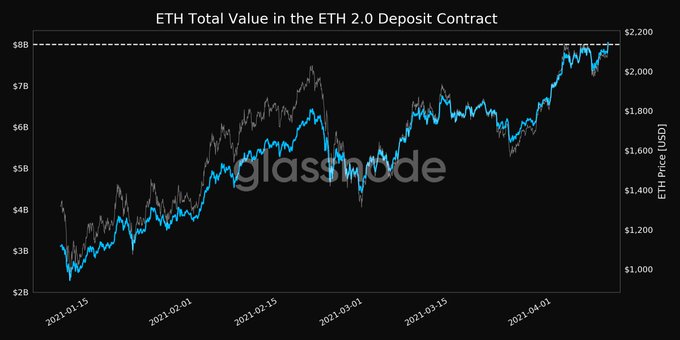 Ethereum 2.0 went live in December 2020, with the aim of transitioning from the existing PoW consensus process to a PoS system that is said to be more eco-sustainable and less costly.
The proof-of-stake algorithm makes block confirmation more energy-friendly by requiring validators to stake Ether rather than solving a crypto issue.
Furthermore, ETH's move to PoS will let for blockchain enhancements such as sharding, which will increase scalability.